Tony originally started life as a member of the large Bosley clan of East Vancouver, which was heavily influenced by music, and as a result, he developed a strong affinity for funk, soul, r&b and progressive jazz at a very early age. He later spent much of his teens and early adulthood in Toronto and Montréal, picking up on many other musical influences while gigging with numerous bands, eventually returning to settle in Vancouver in 1990.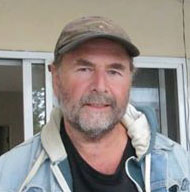 He has always been a prolific writer, however he has found that the flow of writing comes more easily if we can detach our own ego from the process. In other words, the more a writer is subconsciously aligned with the "cosmos" itself, so-to-speak, and the less focused they are on their own individuality, the more the music will tend to flow in from the ether at an ever-increasing rate.
Since Tony came to this realization, he has been barely able to capture all the melodies that are constantly pouring into his head day and night, and now has a huge archive of songs, which continues to grow exponentially.
As many will attest, his music has a way of touching the listener on some deep, subliminal level…. but talk is cheap! Feel free to judge for yourself. If you're interested in using any of this music for any of your upcoming productions, drop us a note! info@adgraphics.com